FIRETRUST'S
FREE PRODUCTS
Firetrust offers some free software products along with their paid products. While they are all free and won't expire, some of them are more feature limited than the paid version. Some of them have not been updated for years.


Support is not available for these products.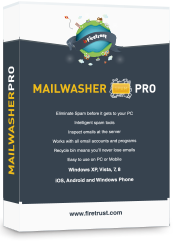 MAILWASHER FREE
Very popular anti-spam product for consumers with over 8 million users worldwide. Powerful and easy to use.

• Works with all email programs and email accounts which support POP3 and IMAP.
• Easy to setup. Use in minutes.
• Free version is limited to one email account, no recycle bin, limited preview pane and no mobile sync.
MORE INFO
FREE DOWNLOAD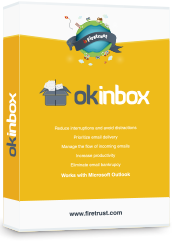 OK INBOX
A free Microsoft Outlook plugin to prevent the daily barrage of time wasting and distracting email during and out of work hours.

• OkInbox delays any non-urgent and unimportant email and bundles these emails in to a digest.
• Digests are delivered as a single email newsletter at a later time and date more convenient to you..
• Works with Microsoft Outlook 2007, 2010 and 2013.
MORE INFO
FREE DOWNLOAD
BENIGN
Benign neutralizes your email, so it strips out any code that makes things like viruses, scripts and worms run, then rewrites your email so it looks exactly the same.

• Works as a proxy intercepting email as it comes in (Sorry, won't work with SSL email).
• Strips out harmful content from your email.
• Stops images from revealing to companies if you've read your email.
MORE INFO
FREE DOWNLOAD